What Social Media Is Best For Your Business
Whatever your feelings on social media it looks like it will be staying for the foreseeable feature. For brands operating online it has become somewhat of a necessity to hold some kind of social media presence although many companies struggle to understand which platform suits them best. It can also be challenging to grow your social media presence. It is our hope then, with this article, to put your brand on the right path to social media prowess.
With almost 4 billion people using social media in 2022 it is a common temptation for many marketers to cover every social media platform to reach as wide an audience as can be. Wanting to be successful on every social media can be a debilitating mistake for most brands. This article hopes to explain why you should think about narrowing your focus.
When wanting to be successful on social media one has to commit considerable investments into their strategy. Covering all popular social media effectively would cost resources such as time, labour, and finances while also likely fail to create an effectively targeted social media strategy. 
Marketers who neglect to research the right social media and audience to target can often run into depreciating returns. Through investing resources into irrelevant social media, marketers can also weaken the reputation of their brand. 
Why Bother With Social Media? 
You may be wondering if investing in a social media campaign will have benefits for you business. Consider that there are now over 4 billion active social media users around the world with many of them following brands like yours or looking to purchase products like yours. Ignoring such a large market would mean missing massive opportunities to build brand awareness. If your digital marketing strategy ignores social media you're missing out on a fast, effective, and inexpensive way to reach almost half of the worlds population.
via: Hootsuite
Many of the top social media platforms have a strong core demographic such as Pinterest which is made up of almost an 80% female base and LinkedIn which dominates the 25-34 year age group. However, the core audience is not merely made up of demographics but customers with specific interests and an openness to engage with brands within those interests. This is exemplified by the core audience of Pinterest centralising around beauty and fashion products and LinkedIn dominating as a B2B platform. Therefore a business in a specific niche aiming to target a specific audience would get the most value from targeting a small group of social media platforms during a campaign.
The impact of using social media has helped increase the brand exposure for 88% of marketers. According to the marketers, there was also an additional to a 77% increase in their traffic. 55% of consumers learn about new brands on their social pages. Brands will undoubtedly miss out on being discovered within these platforms but that's not all, brands also lose potential clients within social media when they do not use these platforms to their full potential.
via: Hootsuite
1. Facebook
Despite social and political controversies and emerging social media competitors, Facebook leads the social media landscape remaining the largest social media platform for consumers and marketers with 2.91 billion active users. Facebook has also long dominated the 25-34 year old category with the majority of users belonging in this age group. 
It is worth noting how Facebook differentiates itself from other platforms
Due to the amount of users, Facebook can be a productive in reaching the widest social media audience as an advertising platform

81% of brands

prefer video marketing on Facebook. Video marketing is also more effective than other types when advertising with Facebook

While the 25 and above age category remains strong on Facebook,

following 2021, many younger consumers flocked towards emerging apps like TikTok and Snapchat

The average time spent on the platform has fallen too especially among teens

Despite the allegations of decreased reach, ad revenue

continues to climb steadily

. Currently, Facebook is an effective marketing platform for reaching a wide, precise, target market

Facebook has more data on its users than most other platforms making custom advertising and PPC to your target audience easier
Overall, when you target the right audience using the customisable tools of Facebook you can be effective at targeting specific customers, lead generation and building relationships with your consumers. This is because Facebook makes it easier to show the human side of your business turning leads into followers and customers. It can also be used in part with other Facebook applications such as Whatsapp or Instagram.
2. LinkedIn is Best For B2B
LinkedIn is one of the most unique platforms on this list catering mainly to job seekers, recruits, companies, and professionals. Whether you have an account already or are new to LinkedIn it can be a surprising platform in terms of its reach and scope. It is also the leading B2B platform where a majority of companies and marketers choose to distribute content and communicate through. Check out these statistics:
LinkedIn is the #1 network for B2B marketers in distribution of content

It is also the top paid and organic social channel for B2B

Most users are between 25-34 years old 

LinkedIn specialises in connecting a direct line to fellow industry professionals making it an effective tool to generate strong strong leads with a low cost
LinkedIn also has significantly less content clutter than other platforms such as LinkedIn because it aims to be business rather than just socially orientated. As a business platform the algorithm provides more relevant and valuable content when it finds the opportunity which allows more business connections and leads to occur. Although companies can use LinkedIn for B2B and lead generation it can also be effective to build brand awareness, recruiting new staff, communicating, and keeping your audience informed through posting updates.
3. Instagram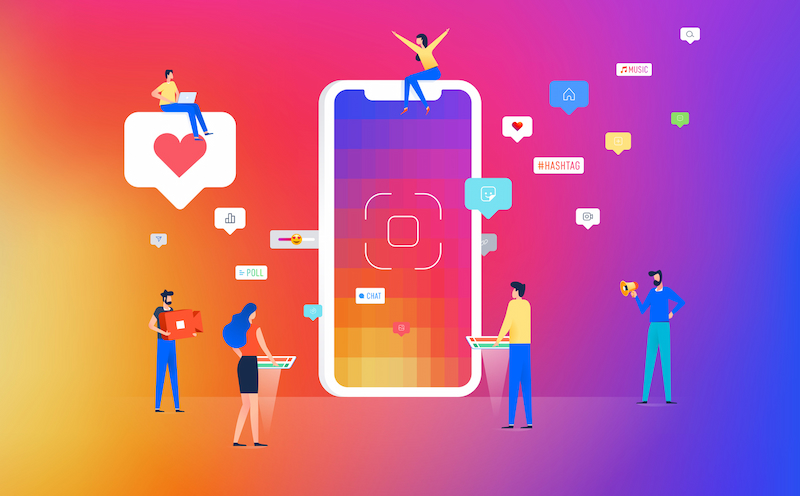 Instagram launched in 2010 but still remains one of the fastest growing and most popular social media platforms boasting over a billion monthly active users. Over 500 million users are active every day on the app and 90% follow a business with about 600 million users using the platform to discover new products. In 2020, shopping has become even more streamlined on Instagram with a shopping and checkout feature allowing businesses to sell products live and directly through the app.  
A wider audience can also find your content through location tagging and hashtags. This enables users searching for a particular topic to organically find you even if they don't follow you.

For paid traffic you can also use paid advertising.

Instagram is also an effective B2B tool simplifying direct communication to prospects.

The Story feature also encourages authentic communication to your audience with the added incentive of stories being temporary posts. 
This makes Instagram the perfect social media setup to grow brand awareness and showcase products, services, events, and offers in a highly visual and digestible way. Perfect for any business relying on visual aspects to promote their products.
Here is an example of GMC promoting one of their vehicles using a carousel (a post containing more than one photo). This ad campaign on Instagram allowed GMC to use storytelling to captivate their audience and display their product in a unique way showing off every angle of the cockpit. Ultimately this is effective marketing as GMC are selling an experience not a product:
4. Pinterest
The USP of Pinterest is the highly visual nature of the platform much like Instagram. However the main difference is Pinterest focuses less on socials and more on discovery and inspiration. Perfect for Ecommerce. This leaves more room to focus on products. When using the app, users simply create pins and boards with various images seen by those using the app. One can easily create a business account and use the shop feature to sell products. 
Pinterest will best reward businesses who thrive on producing visual content. The platform even supports a visual search. With many users looking for fresh products and ideas and "pinning" links to websites and product pages it can be an effective platform to increase brand exposure and open up to a wider consumer audience base. Especially since Pinterest users are x7 more likely to make a purchase on products they have pinned.
Did you know that over 87% of Pinterest users purchased a product because of the site. Popular topics include fashion, beauty, garden, home, and DIY and the most popular demographic is female who make up 77% of Pinterest users. If your company operates within these industries it may be to your advantage to use Pinterest.
Via: HootSuite
5. Twitter 
Unlike Pinterest, the majority of Twitter users are male with 61.6% male users and with a 42% majority age group in the 18-29 year old category. The USP for Twitter is that in the age of viral marketing and information overload the social network is effective at reaching a wide audience quickly. This can also be a challenge for brands if they want to stand out among the tweets.
The platform differentiates itself in a few ways creating an environment where conversation can begin about news and trends. Twitter is mainly used for:
Keeping up with the latest news, trends, and events as they happen

Building brand awareness and starting conversations 

Connecting with similar minded users and retweeting 

Engaging with and broadening your audience
Twitter is the ideal for constantly evolving brands who thrive on starting conversations, asking questions, and communicating with their audience. These aspects can be achieved through Tweeting about Industry news to your audience, engaging with Twitter users, and staying in the conversation by retweeting content. Doing so can prove to quickly increase interactions while growing a following of people interested in your niche providing business opportunities which may not have risen before. 
Remember that content is king and Twitter is no exception. The most successful brands Tweet consistently but they also consistently distribute valuable, high quality, and relevant content. Although this can be fruitful and cost effective it can be time consuming to build up a real presence on Twitter. 
To conclude, Twitter is effective as a platform to communicate with your audience. This has several benefits for brands such as uplifting your brand's reputation – 77% of Twitter users feel more positive about a brand when their Tweet has been replied to. 
Final Tips
We hope our exploration into what are the best social media for business has proved effective in your social media strategy decisions. We wanted to create a short guide rather than a rulebook as every business can be different with their own niche and target audience.
We wanted to reiterate the purpose of selecting from different social media networks as one may not be enough for every business. It is worth to note that your target audience or prospects may be on multiple platforms making it important to post unique content to avoid overlapping strategies. The reason being is that your Twitter followers will be more interested in news updates while your LinkedIn Audience will be more focused on wanting to know your services in detail. Each platform can have their own function in making your strategy work.
Keep in mind that a successful social media strategy is not instantaneous. Much like a PPC campaign, a social media marketing strategy will force you to think creatively, rewarding accounts who experiment, monitor, analyse, and evaluate their effort.